---
For more information regarding calculating the the post-game student survey/expected learning outcomes, see the TeacherInfoPage located on the Lesson Handouts page.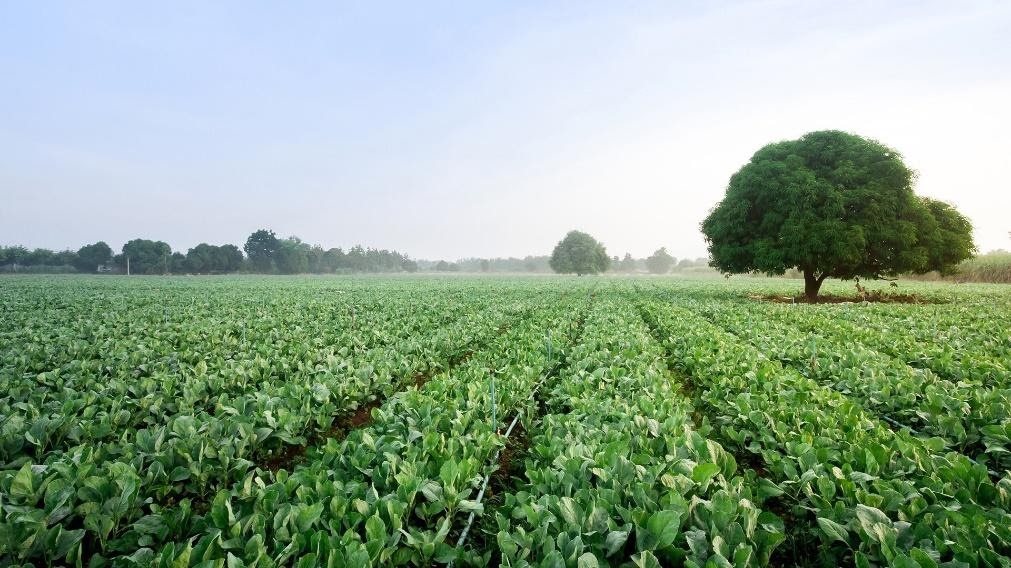 (Image from https://windows10spotlight.com/images/584654cc053323dc1b7486de7965c0e8)
Student Takeaways from Playing "You've Got Kale!" Farming Simulation Game
Environmental stewardship comes with a cost to farmers but reductions in on-farm revenue may be balanced by benefits of crop drought resistance (from soil improvements) or fishable streams in the community.
Farmers will not necessarily be able to afford implementing many

nutrient

management practices without using available government subsidies.
Management practices differ in their costs and environmental benefits. For example, cover crops may excel at reducing on-farm

erosion

and forested stream buffers may excel at preventing nutrients from entering streams.
Achieving a collective goal of restoring a community stream to a swimmable and fishable state requires many farms to manage nutrients.
Running the Game
Instruct students to open the Farming Simulation Game excel file (filename PLAYFarmingSimulationGame).
Students must "enable content" in the game and accept any macros for the game to run properly.
Direct students to read all instructions highlighted in yellow as they play the game. There are dedicated instructions for each tab/section of the game.
Calculating the Overall Classroom Goal
Provide the students with the corresponding worksheet to record their annual results during gameplay (filename FarmingSimYearlyResultsWorksheet).
The game can be played either individually, or in teams. There is a name section on the corresponding worksheet where students should write all names.
Once all students have completed the game, sum up each team's Total Pounds of TN Reduced box.
The total pounds of Nitrogen reduced that will return the stream to its previous recreational state is 1,300 lbs accumulated by each farm. Reducing TN at this rate as a class will return the state of the stream to the neighborhood swimming area, and the most abundant fishing spot in the town.

For example, if there are 20 students in your class, each playing individually and accumulating 1,300 lbs on each worksheet in the Total Pounds of TN Reduced column, adding up each worksheet's lbs reduced should be greater than or equal to 20 students * 1,300 lbs = 26,000 lbs to restore the stream to a clean state.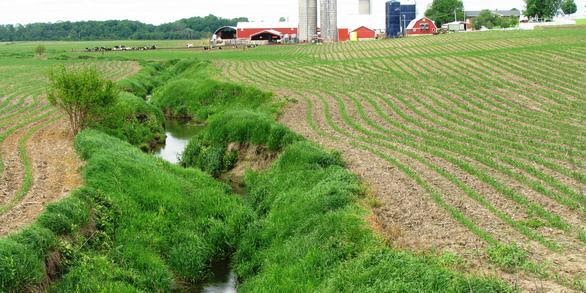 (Image from https://www.usgs.gov/mission-areas/water-resources/science/agricultural-contaminants?qt-science_center_objects=0#qt-science_center_objects)
Game Mechanics
The excel game was built with data representing a kale farm on Maryland's Eastern Shore of the Chesapeake Bay, USA. Data for the game came from the Chesapeake Bay water quality decision support tool (Chesapeake Assessment Scenario Tool) and a multi-investigator research team, funded by the National Science Foundation.
Teacher Curriculum Requirements
This game will address the Human Suitability Standards HS-ESS3-1, HS-ESS3-2, HS-ESS3-3, HS-ESS3-4, HS-ESS3-6 and ETS1.B of the Next Generation Science Standards(NGSS), in addition it also addresses the AP Environmental Science Topic VI c (Economic Impacts) and Environmental Literacy Standard 7, topics E and F (Environment and Society).
---
---
---
---